Christ's Commission Fellowship
Christ's Commission Fellowship is a megachurch in different branches or satellite churches whose headquarters is based in Ortigas Center, Mandaluyong City, Metro Manila, Philippines. With a membership approaching 25,000 people, it is among the fastest growing Evangelical churches in Southeast Asia.

It has two main centers, St. Francis Square and Alabang, and smaller branches in Taytay, Rizal, Pasig City, Marikina City, Binondo, Manila, Biñan, Laguna, Bay, Laguna, Lucena City, Quezon, San Fernando City, Pampanga, Malolos, Bulacan, Marilao, Bulacan, Alicia, Isabela, Cebu City, Cagayan De Oro City, Malaybalay, Bukidnon, Davao City and Singapore.

Christ's Commission Fellowship St. Francis Square: Located at the 5th floor of the St. Francis Square mall in Ortigas Center, it has a current population of over 17,000 worshippers. Aside from the usual Sunday Worship Service, the church also holds several events, such as Dawn Watch (a prayer gathering every Tuesday morning at 6 AM), Weekend Encounters (weekend retreats to get connected with Christ), Couples Enrichment Seminars, SoulStop (College Students' Bible Study), JZone (High School and College Students' Bible Study), KSP Lecture Series, as well as Bible studies every Wednesday night.


---
---
Buy First Vita Plus Power Pack

First Vita Plus Power Pack
Josefina Health Story
JOSEFINA
"I had gallstones. My pancreas had a cyst. My liver was affected. All these meant undergoing surgery and possibly chemotherapy... Risk of developing cancer... My husband, who suffers from hypertension also feels better now because of his regular intake of First Vita Plus." More First Vita Plus Powder Drink (Moringa Oleifera) Josefina Health Story

First Vita Plus Vegetable Juice Drink, First Vita Plus Dealers, First Vita Plus Health Stories
---
When wealth is lost, nothing is lost; when health is lost, something is lost; when character is lost, all is lost. ~Billy Graham

Good health is not something we can buy. However, it can be an extremely valuable savings account. ~Anne Wilson Schaef
---
First Vita Plus Products
First Vita Plus Dalandan
First Vita Plus Melon
First Vita Plus Guyabano
First Vita Plus Fruits Mangosteen
First Vita Plus Dalandan Gold
First Vita Plus Melon Gold
First Vita Plus Guyabano Gold
---
---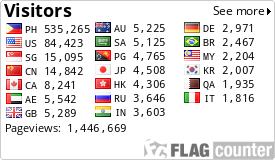 ---